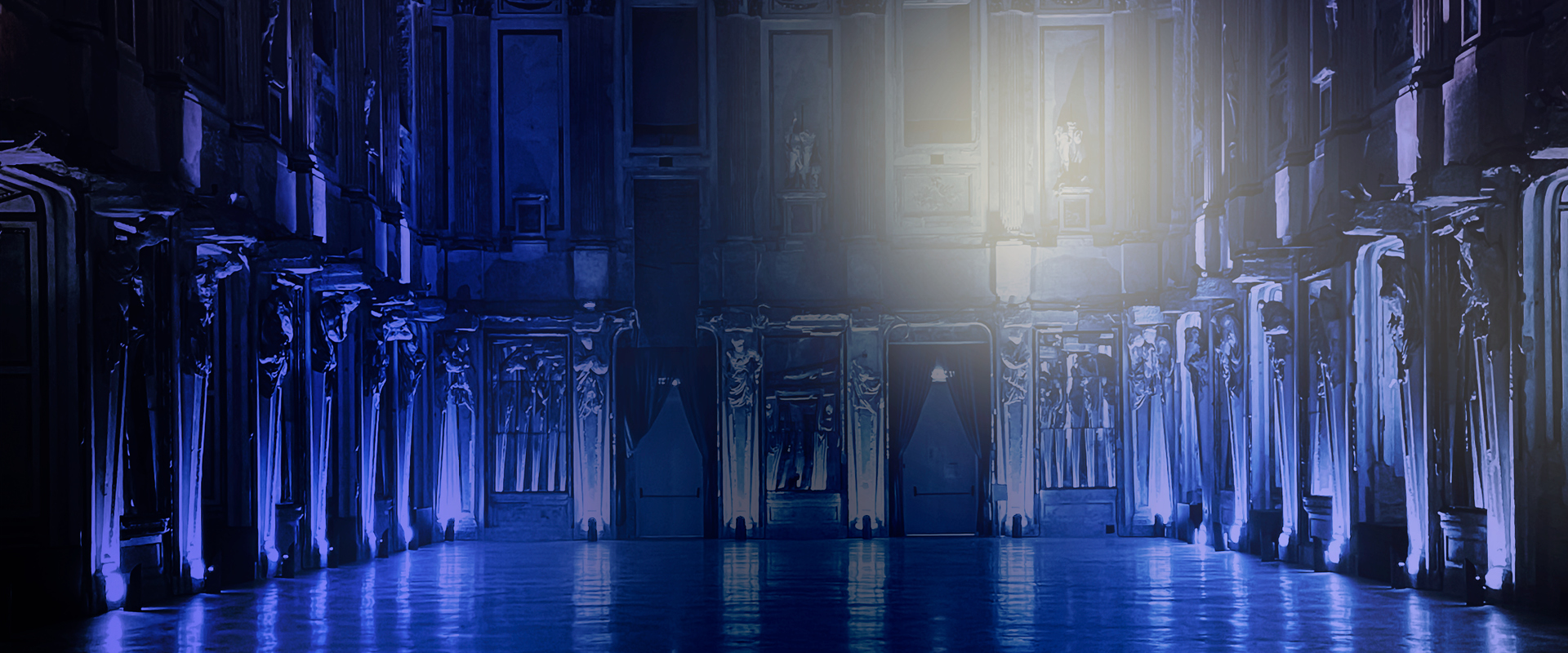 The experience of art
EXPERIRI
Gratuita
from to
The Experiri project is an excellent opportunity for a cooperation between different artistic, musical and scientific disciplines. It aims to reconsidering the role of art, focusing on the experiential process from a multidisciplinary perspective.
Created by artist Marco Nereo Rotelli, who has been conducting an original research on the connections between art, poetry and light for years, this project, promoted and produced by Palazzo Reale, Comune di Milano-Cultura, Art Project and 2CHANGINGART is implemented in one of the most prestigious contexts in Milan for artistic and cultural events. After ten years, Rotelli returns to illuminate the historic and monumental Palazzo Reale, expressing his creativity in the magnificent Sala della Cariatidi. Experiri is a challenging and attractive project: not only does it aspire to codify and convey multiple artistic and musical messages using a new language, but it has the ambition to explore the connections and relationships between visual arts, music, multimedia technologies, scientific disciplines, poetic sensitivity and philosophical reflection.
For such a complex task, Rotelli chooses the path of multidisciplinarity, inviting some internationally renowned protagonists coordinated by Elena Lombardi. Poets Adonis and Yang Lian, photographer Aurelio Amendola, musician and DJ Alessio Bertallot, composer Roberto Cacciapaglia, physicist and geologist Paolo Dell'Aversana, philosopher Massimo Donà, and director Franco Piavoli will participate, each with their own expertise and creativity.
For five days, from 8 to 12 September 2021, people will have the chance to participate, online or in person (as long as they make a reservation), in this event in progress: the creation of an "arts device" inside the Sala delle Cariatidi, which will be turned into a creative construction site. Art, music, poetry and photography, filmmaking and drama will interact to promote new forms of symbiosis. There will be several and valuable contributions from our 'guests/authors': Maria Vittoria Baravelli, Art-Sharer; Mauro Bertagnin, architect; James Bradburne, Director General of the Pinacoteca di Brera; Domenico De Masi, sociologist; Oscar Farinetti, entrepreneur; Alberto Fortis songwriter, Antonio Lanzillo, designer; Alessio Lega, songwriter; Francesco Marelli, digital creator, Andrea Margaritelli, President of the Istituto Nazionale di Architettura; Federica Restani, actress; Pietro Verardo, futurist music scholar.
The project is promoted by glo™, which supports art in all its forms as a driving force that allows, now more than ever, to open up new horizons and start a new phase. By combining and mixing different styles and creative languages, Experiri, in in close connection with the work Falso Autentico (the installation dedicated to sustainability created by the artist at the Università Statale), is a new and unexpected artistic performance, in line with the philosophy of the glo™ brand Don't give up on anything, which invites us not to choose necessarily between two (apparently) opposite options, but to make them coexist without compromise.
Today, driven by the ineluctable need to find a way out of the imminent catastrophe, we are called to build a new path to sustainable development, beyond any fictitious line of demarcation between art, philosophy, poetry, music and science. It is in this context that Experiri suggests new forms of hybrid expression in which different ways of thinking and creating converge on the same
work, understood as action, as well as a sterile exhibition, and promotes a critical reflection on sustainable development. Men can illuminate their dark side, which can cause them to break down and destroy the environment, but they can only do so with the support of a multidisciplinary and multicultural paradigm; art, science, poetry, philosophy, music, technology are different and complementary languages through which we can express and practice a sustainable existence.
Experiri is the live performance version of Falso Autentico, the monumental work commissioned by glo™ to artist Rotelli for the event Fuorisalone 2021, which will be exhibited at the Università Statale di Milano from 4 to 19 September.
With Falso Autentico Rotelli creates a work of art capable of expressing and representing a concept in which opposites coexist in a single environment, just as people's choices can be characterised by contradictions and drastic positions. Falso Autentico is a dome made of raw earth with the ancient African technique that meets the futuristic and digital atmosphere of its interiors, where the underlying message suggests that past and future can coexist in the same space. So, the inside is the outside: a digital and immersive space, a place as a logos. Entering Falso Autentico will be like entering the dimension of myth, of the archetype, to find yourself in the digital infinity. The inhabitants, understood as bodies, as models of behaviour, that is, visitors, represent an ideal man capable of living two dimensions: what can a place give us where the outside recalls the ancient earth and the inside globalization?
Find "Hope, All Ye Who Enter Here".
a project by Comune di Milano Cultura, Palazzo Reale in collaboration con Art Project e 2Changingart
curated by Marco Nereo Rotelli
Opening Times
From the 8th to the 12th of september in streaming.
Info and Booking
info@experiri.it